Goodacre Centre : Sleeps 28
Total Bunks: 28
4 Bunk Rooms: 3 with 8 bunks, 1 with 4 bunks
Toilets: Male & Female, plus accessible wet room

The spacious bunk rooms are furnished with wall mounted bunks and storage boxes just off the main central hall. With accommodation for a maximum of 8 in three of the rooms and four in the smallest. The smallest is ideal for leaders.
Toilet & Shower Facilities
There are male and female toilets within the building and a wet room that doubles as the accessible toilet.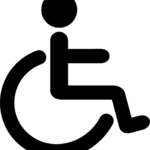 With ground level entry the Goodacre hall and accommodation is accessible to all. Access to the kitchen is limited due to the doors being of a limited width.

Gas Cooker: 12 rings & 2 ovens
Fridges: 2
Sinks: 3 inside, 1 handwash, 2 outside
Other: Freezer, microwave, toaster

The kitchen is fully equipped with appropriate white goods and Gas ring hob to cater for those staying in the building. The kitchen comes with pots, pans and basic equipment. An equipment list can be provided by the booking secretary upon request.

| Goodacre Centre - Building Charges | |
| --- | --- |
| The Goodacre Centre (Residential building sleeping 28 including kitchen) between 6 and 24hrs | £110.00 |
| The Goodacre Centre – Daytime or evening use up to 6 hrs | £45.00 |
| Site Fees - South Leicestershire District Scouting Users | |
| --- | --- |
| Full day site fee, 6-24 hours (visitors, campers and building users) – any day | £2.50 per person |
| Part day site fee, 30 mins to 6 hours (visitors, campers and building users) – Fridays to Sundays | £1.00 per person |
| Part day site fee, 30 mins to 6 hours (visitors, campers and building users) – Mondays to Thursdays | No charge |
| Large Event maximum charge (inc site fees and building charges) – full day (up to 24hrs) | £250 |
| Water fights and similar activities using above normal power, water etc - up to 4 hrs (Needs prior approval) | £20 |
| Users' own caravan or motorhome with electric hook up – up to 24hrs (Needs prior approval). In addition to per person site fee | £10 |
| Site Fees – Other Users (not Scouting or Girl Guiding) | |
| --- | --- |
| Full day site fee (6-24hrs) (visitors, campers and building users) – any day | £5.00 per person |
| Part day site fee, 30 mins to 6 hours (visitors, campers and building users) – Any day | £2.70 per person |
| Evening meetings (30mins to 6hrs) (building users) – Mondays to Thursdays | Building charge only |
| Water fights and similar activities using above normal power, water etc - up to 4 hrs (Needs prior approval) | £30 |
| Users' own caravan or motorhome with electric hook up – up to 24hrs (Needs prior approval). In addition to per person site fee | £20 |