Total Bunks: 22
6 Bunk Rooms: 5 with 4 bunks, 1 with 2 bunks
Toilets: 1 Unisex & 1 accessible unisex

The lodge has bunk room accommodation for 22 in small room of 4 with the addition of a leaders/disabled access room with one bunk bed. Clean and bright this is the newest of the buildings at the campsite.
Other Rooms & Toilet Facilities
Unique with is porch veranda, ideal for gathering groups before and after activities, as well as providing a covered boot space without trekking into the building itself. The Lodge also has its own meeting area as its entrance way. Ideal for crafts, or as an indoor space for a small number.
The lodge does not have its own kitchen facilities, instead the field kitchen can be booked in addition or users may wish to pitch their own kitchen tent on the edge of the field.
The lodge is ideal for sleepovers for younger sections joining bigger group camps as well as additional indoor accommodation for a large group who have booked the Goodacre.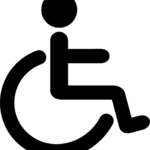 The lodge is fully accessible with ramp access at one end onto the veranda and wide entrance doors. The accessible room is easily assessable as one of the first on the accommodation corridor. The building also has its own disabled toilet with wide access door.
| The Lodge - Building Charges | |
| --- | --- |
| The Lodge (Residential building sleeping 22 no kitchen facilities) between 6 and 24hrs | £65.00 |
| The Lodge – Daytime or evening use up to 6 hrs | £30.00 |
| Site Fees - South Leicestershire District Scouting Users | |
| --- | --- |
| Full day site fee, 6-24 hours (visitors, campers and building users) – any day | £2.50 per person |
| Part day site fee, 30 mins to 6 hours (visitors, campers and building users) – Fridays to Sundays | £1.00 per person |
| Part day site fee, 30 mins to 6 hours (visitors, campers and building users) – Mondays to Thursdays | No charge |
| Large Event maximum charge (inc site fees and building charges) – full day (up to 24hrs) | £250 |
| Water fights and similar activities using above normal power, water etc - up to 4 hrs (Needs prior approval) | £20 |
| Users' own caravan or motorhome with electric hook up – up to 24hrs (Needs prior approval). In addition to per person site fee | £10 |
| Site Fees – Other Users (not Scouting or Girl Guiding) | |
| --- | --- |
| Full day site fee (6-24hrs) (visitors, campers and building users) – any day | £5.00 per person |
| Part day site fee, 30 mins to 6 hours (visitors, campers and building users) – Any day | £2.70 per person |
| Evening meetings (30mins to 6hrs) (building users) – Mondays to Thursdays | Building charge only |
| Water fights and similar activities using above normal power, water etc - up to 4 hrs (Needs prior approval) | £30 |
| Users' own caravan or motorhome with electric hook up – up to 24hrs (Needs prior approval). In addition to per person site fee | £20 |